A foreign girl studys Chinese in a Chinese language school at shenzhen --"happiness and talent"
时间: 2017-09-11 14:05:28
浏览次数:2274
A foreign girl studys Chinese in a Chinese language school at shenzhen --"happiness and talent"
I'm from France. My name is jane. I'm 22 years old. I graduated from university in France two years ago, majoring in international trade.
When I was in college,I work while I study. The first time I left my home is going to Ireland, where I worked for three months at a famous company. I was very interested in traveling,so then I went to Germany to study German. Four months later, I returned to France to take the exam.Besides, I worked for two months in a logistics company.
After I got the graduation certificate, I felt I already had some work experience, and I didn't want to work and just wanted to continue studying. So I gave up a good Job to go to China to study Chinese.
2016,I went to shenzhen,a beautiful city of China. The first thing I did is finding a Chinese language school to study Chinese.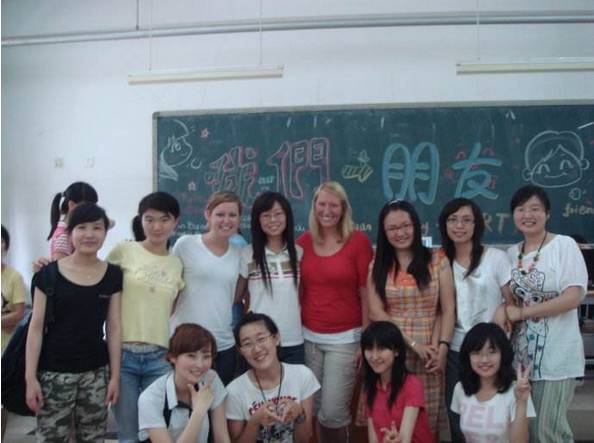 And I found "happiness and talent".A great Chinese language school.I had learn so much things here. Not only I impoved my Chinese,but also I made a lot of friends here.I liked living here.Your could not imagine how convenient to live here. The news we uesd to be told is not real .Seeing is believing. That is true.It is more secure than in France. I lived alone in a small house I rent, but I didn't feel lonely.
I was very interested in cooking, and there are many books and tools in my house. When I got home at night, I studied first, then listened to music or watched Chinese TV series. In my spare time, I liked to go around with my friends and learned more about Chinese society and Chinese culture.
I didn't like to live in a rut, cause I knew that experience was the wealth of life. As one celebrity put it, "after a lifetime of experience, even if you don't succeed, you get the experience of failure. Even if you don't have the experience, you have a rich life experience! Only such a person can finally enjoy the fruits of victory!"